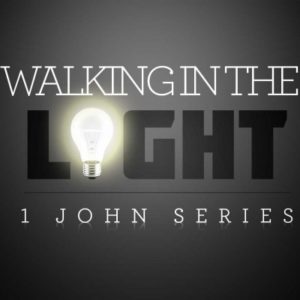 What is true fellowship with God? Is it possible that sinful man can have fellowship with God who is light, love, and eternal life?
Fellowship is the Father's will for all men. It becomes reality for those who enter His family at salvation (union) and become children of light. John writes to explain the parameters of the ongoing experiential aspect of this fellowship (communion with God) to believers in the midst of a great attack upon the churches by false teachers.
Fellowship Defined
The purpose of the testimony from God about Christ (1 John 1:3) is fellowship.
Fellowship in all its aspects (union and communion) comes from the proclamation of the word.[1]
The truth of the gospel through faith in the person and work of Christ brings the fellowship of union with God in our salvation (1 Cor 1:9). Our salvation is the foundation of our experiential fellowship and daily walk with God and one another.
Believers can have and share fellowship with one another because they first of all have a relationship with Christ and share Him in common. As believers in Christ we are related to Christ and each other in that we have been joined into union with Him. We are members of His body through the baptizing work of the Holy Spirit… Only those who are in a relationship with one another (Union – objective truth of our position in Christ) can have true fellowship (Communion – subjective experience of the life of Christ)." [2]
Fellowship is the experiencing and sharing of a common life, an eternal life we share with the Father and the Son. Experiential fellowship is founded upon our union with Christ through salvation.
We must first have a real living relationship with God through faith in Jesus Christ before we can have an (experiential) fellowship (or walk) with God. As this is true with God, so it also becomes true in our fellowship with one another.[3]

It would be a mistake to ground the Christian "walk" solely on the enabling ministry of the Spirit. The close connection (of this verse Rom 8:4) with Rom 8:3 demands that we include the saving work of Christ. In a previous passage Paul has observed that identification with the Savior in his death and resurrection has this very objective, that "we too may live [Gr., `walk'] a new life" (Rom 6:4).[4]
A Church in Crisis
The context of 1 John is a church in crisis. The letter is written to a number of churches in Asia Minor that were undergoing a split as a large number (and possibly the majority) of its members had left the fellowship.
John writes to encourage the believers who remain. He alternates between exhortation and strengthening these believers, and attacking the opponents who left. John's desire is for the recipients of his letter to not be deceived by the false teachings and lifestyle of these antichrists. The false teachers are continuing to recruit the believing members from John's assemblies, so that he needs to combat their lies and warn the brethren.
The Standard for Truth and Fellowship is God
The God who is love is also the God who is light. His love never violates His attributes of righteousness, holiness, or purity. The standard for the Christian way of life is God. The Father reveals this through the written word, which is illuminated by the Spirit. The word of truth is taught by the Spirit of truth; this is His will for man,
Mirroring John's testimony in his gospel and letters, this teaching centers upon and magnifies the life of Christ. As we shall see, the "condition for fellowship is adherence to John's testimony regarding the life of Christ and who He is. Those who departed are not in fellowship with members of the community or the truth regarding Jesus Christ."[5]  The extent of John's feelings towards those who left is unmistakable.
Anyone who goes too far and does not abide in the teaching of Christ, does not have God; the one who abides in the teaching, he has both the Father and the Son. If anyone comes to you and does not bring this teaching, do not receive him into your house, and do not give him a greeting; for the one who gives him a greeting participates in his evil deeds. 2 John 9-10
For John, the center of everything is the Person of Jesus Christ. Those who do not accept Him, but then try to lead others astray through the deception of false teaching are antichrists (1 John 2:8; 4:1). The opponents taught a form of Gnosticism which attacked the identity of Jesus and the revelation of God regarding man's sin, need for redemption, and the ethical command to love the brethren. They disregard the Father who testifies regarding the Son and the commandment He requires for fellowship (union and communion).
This is His commandment, that we believe in the name of His Son Jesus Christ, and love one another, just as He commanded us. The one who keeps His commandments abides in Him, and He in him. We know by this that He abides in us, by the Spirit whom He has given us. 1 John 3:23-24
For John, there is no middle ground. Fellowship, both union and communion, is determined by God who is light, love, and life. He who has the Son has the Father. He who has the Son has life. Jesus is the way, the truth, and the life. For those who do not accept the testimony of the apostles, fellowship with God and the brethren is impossible.
John's Use of Diatribe
The diatribe is a style of teaching often used by ancient philosophers and Greek academics. John uses the diatribe (argument/ counter argument) to first introduce the beliefs of the opponents (1 John 1:6; 8; 10) then he refutes them in the next verse with apostolic teaching (1 John 1:7; 9; 2:1). The opponents claimed to be Christian while simultaneously refusing to believe in the redemption offered through the Person and work of Jesus Christ. In their progressive teaching, they added gnostic philosophy and the prevalent cultural thinking to their beliefs.
John identifies their claims with the introductory statements, "If we say…The one who says." He contrasts their claims to their walk or lifestyle, and then presents the true teaching regarding fellowship.
Other writers of Scripture, like Paul (Rom 3:8; 6:1, 15; 1 Cor 15:35) and James (James 2:14ff.), have also used the diatribe as a teaching tool to express an opposing viewpoint, which is then refuted by divine wisdom.
Summary of 1 John 1:5-10
1 John presents tests or evidence of fellowship. Unfortunately for the antichrists, these tests for fellowship prove their claims are false. John demonstrates that regardless of their claims (fellowship with God, walking in the light, and knowing God), they are unbelievers. In contrast to these unbelievers' claims, John encourages his members to be true to the testimony they heard from the beginning. The faithful believers' fellowship is through the apostolic teaching with the eternal life of God. It is further defined by the revelation of God who is light and love. He contrasts their obedience to the gospel and love for each other with the antichrists who have neither.
"One either sides with the opponents who declare that Jesus did not come in the flesh or the apostles and the view of Jesus presented by their testimony. No other alternative is presented."[6]
Woe to those who call evil good, and good evil; who substitute darkness for light and light for darkness… Isa 5:20 a,b
The disparity in what the opponents say and do leads to a judgment from the senior elder.
 Say                       Do                         Judgment               Outcome
1:6       Fellowship         Walk in Darkness             Liar                   Does Not the Truth
1:8     No Guilt for Sin   (Walk in Darkness)     Self-Deceived       Truth Not In Us
1:10   No Acts of Sin     (Walk in Darkness)     Blaspheme God     Truth Not In Us
…The apostle increases the forcefulness of his statement concerning the iniquity of mere profession without conformity in the life. He is not merely guilty of certain statements and acts of falsehood, but is himself false in his moral state.[7]
A comparison of the central theme of John's gospel regarding the Light and judgment of the darkness (John 3:19-21) and the men who reside there with the verses above provides insight.
Either one believes in the Son or is judged already (John 3:18).
Men reject the Light and remain in the darkness due to their love for the darkness and their deeds, which are evil (John 3:19).
Doers of evil do not come to the Light as He exposes and illuminates their deeds and sin (John 3:20).
Doers of truth (practice the truth) come to the Light so that their deeds will be seen to be wrought in God (John 3:21).
Those who walk in darkness, blaspheme God, and in whom there is no truth are unbelievers. John presents evidence of unbelief and absence of both aspects of fellowship, union and communion, as he progresses through the letter.
V.5  The Standard of Fellowship – God is Light
This is the message we have heard from Him and announce to you, that God is Light, and in Him there is no darkness at all. 1 John 1:5
Light is the life of Christ. God dwells in light which reveals His splendor, glory, holiness, and purity. Light is truth. Light illuminates and reveals all that it shines upon. Darkness is the absence of light and good. Darkness has no existence of its own. Vine defines darkness as a condition of moral or spiritual depravity and an emblem of sin.[8] The idea of darkness may include eternal doom.
V.6  The Lifestyle Lie of Fellowship – If We Say…Yet Walk in Darkness
If we say that we have fellowship with Him and yet walk in the darkness, we lie and do not practice the truth… 1 John 1:6
Only Unbelievers Walk in Darkness
Walking in the darkness as the antithesis of walking in the light denotes the person who has not come to the light, that is, one who has not come to Jesus, the light of the world (cf John 3:19-21). This person, for John, is an unbeliever regardless of whatever claims one may make about having fellowship with God.[9]

…the distinction is between walking in darkness and walking in the light. The former is the condition of the unregenerate, the latter of those who are related to Him who is light (v. 5). To walk in the light we must be partakers of His nature. The word rendered "walk" suggests the habitual or constant course of life. [10]
Having the Light of life means having the Son, who is the source of all life.  In John 8:12 it states that the one "who follows Me will not walk in darkness." "Follows Me" does not indicate discipleship here, but belief that results in salvation.
Then Jesus again spoke to them, saying, "I am the Light of the world; he who follows Me will not walk in the darkness, but will have the Light of life." John 8:12
Unger states that walking in darkness signifies the unbeliever. He also equates "follow Me" with belief.
He who follows Me (i.e. after believing Me as the Light of the world) will not walk in darkness (the sphere in which the unregenerate live) but will have the light of life. Light and life are inseparable (cf. John 1:4) and the life of God, which is eternal as God is eternal, enables the believer to walk, a metaphor for daily thought and conduct.[11]
MacDonald agrees that a believer will never walk in darkness.
A believer will never walk in darkness, that is, He will not live in it. He does not remain in the realm of sin and ignorance for he has Christ as his light and salvation (Ps 36:9). [12]
Constable states regarding John 8:12:
Jesus was claiming that whoever believes in (follows) Him will enjoy the light that comes from God's presence and produces life.[13]
Believers Are In Light; Not in Darkness
The theme of darkness being associated with unbelief/ unbelievers is also found in Paul's writings.
Do not be bound together with unbelievers; for what partnership have righteousness and lawlessness, or what fellowship has light with darkness? Or what harmony has Christ with Belial, or what has a believer in common with an unbeliever? 2 Cor 6:14-15

But you, brethren, are not in darkness, that the day would overtake you like a thief; for you are all sons of light and sons of day. We are not of night nor of darkness… 1 Thess 5:4-5

…for you were formerly darkness, but now you are Light in the Lord; walk as children of Light.   Eph 5:8

For He rescued us from the domain of darkness, and transferred us to the kingdom of His beloved Son… Col 1:13
Belief Removes One from Darkness to Light
I have come as Light into the world, so that everyone who believes in Me will not remain in darkness. John 12:46

While you have the Light, believe in the Light, so that you may become sons of Light.   John 12:36a

…to open their eyes so that they may turn from darkness to light and from the dominion of Satan to God, that they may receive forgiveness of sins and an inheritance among those who have been sanctified by faith in Me.' Acts 26:18

But you are a chosen race, a royal priesthood, a holy nation, a people for God's own possession, so that you may proclaim the excellencies of Him who has called you out of darkness into His marvelous light… 1 Pet 2:9
Believers Come to the Light and Practice Truth
Unbelievers remain in the darkness and have no enablement or desire to practice or do the truth (1 John 1:6). They fear the exposure of the light for their deeds are evil. Believers come to the light and practice the truth.
He who believes in Him is not judged; he who does not believe has been judged already, because he has not believed in the name of the only begotten Son of God. This is the judgment, that the Light has come into the world, and men loved the darkness rather than the Light, for their deeds were evil. For everyone who does evil hates the Light, and does not come to the Light for fear that his deeds will be exposed. But he who practices the truth comes to the Light, so that his deeds may be manifested as having been wrought in God." John 3:18-21
The Meaning of Walking in Darkness in 1 John
The apostle's message, as recorded in 1 John 1:5, was that God is light, or that He is eternal life. Those who do not receive eternal life through Jesus Christ reject that revelation from God (light). They "walk in darkness." They do not believe His word.[14]
The message the apostles heard directly from Christ was proclaimed to the church. The message proclaimed in 1 John 1:2 is that the manifested life of Christ is eternal life. In 1 John 1:5 the message is that God is light. John 1:4-5 states that "His life was the Light of men." The theme of light in John focuses upon the eternal life of God coming into the world of darkness (1 John 2:25; 1 John 5:7,11-12). John's main focus in describing God as light is upon His eternal life. Darkness is the absence of that life.
John repeats and enlarges upon his message of darkness by relating it to spiritual death and the lack of eternal life. In 1 John 2:9-11 walking in darkness describes hating one's brother such that the darkness causes blindness.
The Pharisees (similar to the opponents in 1 John) believed their self-righteousness made then sinless (John 9:41; John 15:22, 24). They claimed to have found life in the law (John 5:39),[15] whereas the antichrists found life in their philosophy, knowledge (gnosis), and a mystical union with God. Jesus' judgment of the Pharisees' condition was that they were not only blind but dead in their sins.
And Jesus said, "For judgment I came into this world, so that those who do not see may see, and that those who see may become blind." Those of the Pharisees who were with Him heard these things and said to Him, "We are not blind too, are we?" Jesus said to them, "If you were blind, you would have no sin; but since you say, 'We see,' your sin remains. John 9:39-41
A commentary on the above passage regarding the Pharisees also relates to the opponents of John. The darkness blinds their eyes and fills them with hatred (1 John 2:11; 3:10-16) because they reject the light of the gospel in Christ Jesus.
The Lord's answer may be paraphrased as follows: "If you admit that you are blind and sinful, and that you need a Savior, then your sins can be forgiven you, and you can be saved. But you profess that you are in need of nothing. You claim that you are righteous and that you have no sin. Therefore, there is no forgiveness of sins for you."[16]
In 1 John 3:14-15 walking in darkness indicates spiritual death and the lack of eternal life. Therefore, walking in darkness to John seems to be equivalent to abiding in death and not having eternal life abiding in one. These are positional truths of standing related to not being in Christ and in possession of the light of eternal life (1 John 5:20). These truths describe the antichrists and false teachers who have left the fellowship and indicate for them a common destiny with the Pharisees.
Problems in Interpretation: Believers Walking in Darkness?
Walking in darkness is generally understood by many (exegetes) to refer to a person who is currently sinning. In John's writings walking in darkness never means performing acts of sin. Instead it means abiding in death by rejecting God's message of eternal life through Jesus Christ. [17]
By making walking in darkness equivalent to sinning one can then apply verses 1 John 1:6, 8, and 10 to believers who are sinful and carnal (instead of the unbelieving false teachers and their followers). A believer, according to this view, can move from walking in the light to walking in darkness by committing sin. Walking in the light, in this view, must be sinless as God is holy and righteous and any sin places the believer back into darkness (the realm of unbelievers). This interpretation (believers walk in darkness) is contradictory to large amounts of Scripture already presented.
The author is not aware of any Scripture that states a believer can ever walk in darkness as salvation removes them from that domain. The interpretation (believers walk in darkness) is contradictory to large amounts of Scripture already presented. As a theme of John, darkness is always associated with unbelievers. As will be shown, those John identifies as walking in the darkness are those who refuse to believe that Jesus is the Christ who came in the flesh. Hall explains the significance of darkness in John's theology from John 3.
The darkness painted by John 3:16-21 is one where one's affinity for "light" and "darkness" serves to reveal one's inner nature. One is forced to a decision to ally oneself with one side or the other. A response is evoked: one cannot just remain neutral. Either one comes to the light, and it becomes evident that one belongs there, or one hates the light and shrinks back into the darkness to hide from it. The imagery of response used in John 3:16-21 applies to an individual's response to Jesus Himself, who is identified as "the true Light" in John 1:4 and who identifies Himself as "the Light of the world" in John 8:12.[18]
Does John address the ongoing walk of the sinful or carnal believer in 1 John?
It is a feature in John's writings to state truth in exclusive terms… We become impressed, for example, with the sharp distinctions between the saved and unsaved in his writings. When he is writing or giving us the words of Christ, he usually has these two groups before him…The contrast we usually see…is not between two classifications of saved men, the spiritual and the carnal. Rather, it is between believer and unbeliever, saved and unsaved.

Paul, (however), specifically distinguishes three and quite plausibly four types (of men) in 1 Cor 2:12-3:4: the natural man, the spiritual man, the carnal Christian who was only recently converted, and the carnal Christian who has been saved for some time…[19]
Those who interpret 1 John as believers who are walking in darkness may be using Paul's analysis and theology to interpret John's writings. This violates a basic concept of interpreting Scripture: who is writing, to whom is it addressed, and what is the subject matter. John sorted out one's fellowship to God (and thereby unbelievers from believers) with one question: Who is Jesus to you? For John, a person's behavior illustrated their choice. He addresses both the union and communion aspects of fellowship. Paul asked another question as well: If you say you are a believer, why are you behaving this way? Paul addresses the fact we sin, but also emphasizes that believers should be troubled by that and seek to correct behavior through the Spirit. Paul's ministry regarding Corinth was dealing with believers who were unable to progress spiritually because of their carnality over a period of 4-5 years.
The best Scripture to get an understanding of the carnal believer is 1st and 2nd Corinthians and the writings of Paul. John's situation in 1 John (a church schism of unbelieving false teachers) is not the same as the Corinthian church where repentance from ongoing carnality was being addressed. Additionally, there were false teachers within the congregation in Corinth who taught against the resurrection (1 Cor 15:12-34). John does not address or list the sins of believers in 1 John as Paul does in Corinthians. John admonishes believers to stop loving the world (1 John 2:15) and exhorts them to love the brethren (1 John 3:16-18). The sins of the antichrists are not believing the gospel (1 John 2:22-23) and hating the brethren (1 John 2:11, 3:10-15). (No other sins are listed other than loving the world which is a subset of hating the brethren.) Although the sins of believers are addressed (1 John 1:9; 2:1-2), ongoing carnality is not the focus of the letter. John explains the unbelief and evil deeds of the antichrists and exhorts to remaining believers to a closer and abiding fellowship with the Father and Son through the Spirit.
Interestingly, John addresses a church under the leadership of Diotrephes in 3 John that might mimic the circumstances that Paul faced in the Corinthian church (False teachers, carnal Christians, and unbelievers within the church). In 3 John, John's apostleship was being attacked, the apostolic teaching was rejected, and  missionaries sent to the group were thrown out of the assembly ( 3 John 1:9-11). It is likely that Diotrephes was one of the antichrists who had deceitfully gained control of one of John's churches . If John would have written another letter directly addressing this group the content might have been similar to the issues raised by Paul in 1st and 2nd Corinthians. There is no need, however, to subvert the context of 1 John (where only two groups are in mind, the Christians who remain and the unbelievers who had left) to fit Paul's teachings regarding the carnal situation of the Corinthian church.
The Spirit has directed each apostle to write the Scriptures we have in our possession. The focus of each is necessary, unique, and yet complementary. The methodology used in interpretation must allow the Scriptures inspired by the Holy Spirit to speak through that author in the context presented.
Paul's Description of Believers and Unbelievers
John does not discuss carnality nor the breaking of temporal fellowship by a believer's refusal to acknowledge his sin. Paul does address these issues. What follows is a look at the Scriptures where Paul describes behaviors of believers/ unbelievers as well as their source. None of these terms are synonymous with John's use of walking in darkness, although they seem similar, since Paul's may apply to believers.
Believers can and do sin. We can do deeds of darkness (Rom 13:12; Eph 5:11) or deeds of the flesh (Gal 5:19). Yet, in Eph 2:1-3 where it states, "lived in the lusts of the flesh" or "walked in trespasses and sins," the reference is to unbelievers. In the phrase "While we were in the flesh" in Rom 7:5 Paul is describing unbelievers before salvation.
Can believers walk in the flesh? One of the few references the author could find about believers walking in the flesh is 2 Cor 10:3. Paul refers to walking in the flesh as one who is walking in the world as a frail human. In contrast, most commentators interpret those who "are according to the flesh" in Rom 8:5 or who "are in the flesh" in Rom 8:8 as unbelievers.
Rom 8:4 describes Christians as those who do not "walk according to the flesh" but "according to the Spirit so that the requirement of the law might me fulfilled in us" (walking in righteousness). In Rom 8:13 Paul states that Christians who "live according to the flesh" will die. B. Deffinbaugh seeks to clarify the Biblical terminology here:
I see a distinction between those who "walk according to the flesh" (which includes Christians), and those who "are according to the flesh" or "are in the flesh." The first category has to do with the way people live; the second category has to do with who people are. Rom 8:5-8 therefore describe the unbeliever…Rom 8:9-11 describe the believer.[20]
Here is a list of terms used by both Paul as they relate to either believers or unbelievers in the text. Walk according to the flesh in Rom 8:13 seems to be equivalent to walk according (like) a mere man in 1 Cor 3:3. Believers are "in the Spirit" but not "in the darkness."
Believers                                                        Unbelievers
Walk according to the flesh                 Are according to the flesh
Live according to the flesh                      Are in the flesh
Walk according to man                    Lived in lusts of the flesh
In the Spirit                                           Walked in trespasses and sins
Walk according to the Spirit               Walk in the darkness (John)
Although some make the case that 1 John is written to believers who either walk in the light or walk in the darkness, where darkness indicates one who either commits an act of sin or makes a lifestyle of carnality, this is not a position we would agree with.
The examination of Paul's terms above and the concept of carnality, the practice (Gk. prasso) of sin indicating unbelief (1 Cor 6:9-10, Gal 5:19-21; Eph 5:5), the profession of belief (1 Cor 5:11-13), and restoration of erring believers in 1st and 2nd Corinthians are issues that will be looked at in another study.
Having set aside the interpretation of carnal Christians "walking in the darkness" in 1 John, we will return to Scripture and verse 7.
V.7 The Cleansing of True Fellowship – Walk in the Light
…but if we walk in the Light as He Himself is in the Light, we have fellowship with one another, and the blood of Jesus His Son cleanses us from all sin. 1 John 1:7
John refutes the false teachers who claim fellowship with God even though they are walking in darkness. Walking in the light/ truth is the basis of both fellowship and cleansing.
"In the light" means receiving God's revelation of Himself through His Son (the testimony John and the apostles proclaimed) and, thereby, eternal life and forgiveness of sins. Those who are in union with Christ through faith in the testimony "walk in the light" (as He is in the light) through obedience to the truth of His word. The union of fellowship with God's life is to be mirrored in our walk which includes character and conduct (fellowship communion). This walk is one of honesty such that confession and forsaking of sin results from the Spirit's conviction (1 John 1:9).
The Light of Truth Reveals and Guides
The commandment for every believer is to walk in the light. We are not expected to become light, but we are expected to walk in the light. It means walking in the light of His truth. "Your word is a lamp unto my feet and a light unto my path" (Ps 119:105). The word is not only for guidance and wisdom regarding life, but is also the revealer of the thoughts and intent of the heart.
For the word of God is living and active and sharper than any two-edged sword, and piercing as far as the division of soul and spirit, of both joints and marrow, and able to judge the thoughts and intentions of the heart. And there is no creature hidden from His sight, but all things are open and laid bare to the eyes of Him with whom we have to do. Heb 4:12-13

When we are walking in the light of fellowship with the Lord the light of God's word shines on additional areas of our lives and shows up our sins and frailties… The areas of life the light of God's and His word is shining are always expanding in the process of growth in the normal Christian life.[21]
Outcome of Walking in the Light
 The standard for Christian conduct is God's word. Sin is coming short of the glory of God (Rom 3:23). As we walk in the light there are two outcomes:
Fellowship with One Another
The "fellowship with one another" is the fellowship of believers with each other, though that is the evidence and expression of fellowship with God. For the further use of "one another" in this Epistle see 1 John 3:11; 3:23; 4:7; 4:11, 12; see also 2 John 1:5—seven occasions in the two epistles. This fellowship (of love and service to one another) is the outcome of walking in the light.[22]
Cleansing from Sin
Cleansing would seem to be additional to forgiveness. The blood of Christ sanctifies as well as justifies, changes a character as well as relieves the conscience.[23] Cleansing indicates the removal of impurities, defilement, and pollution from the heart due to the effects of sin.
The Relational Nature of Fellowship
To Walk in Light is Being Honest, Not Being Sinless
D. Wallace states the following regarding what walking in the light means for the believer.
To fellowship with God, to be in the light, don't we have to have a sinless life?

That would seem to be the case if light meant holiness. It is precisely because of this understanding of light that they view fellowship with God as something we can be in one moment and out of the next.

To walk in the light is not to live without sin: otherwise the blood of Christ would not be needed to cleanse us while we are walking in the light. All the verbs are in the present tense- meaning it is an action begun in the past, continuing now, and will continue in the future. The force seems to be while we are walking in the light the blood of Jesus is cleansing us from all our sins.

The text is not, therefore, speaking of being "in fellowship" and "out of fellowship" on a moment-by-moment basis. If "light" means "exposure" this would mean that one second we're admitting we're sinners, and denying it the next. Such a view is neither true to life nor to the scriptures

But if light means honesty and integrity and transparency, then to walk in the light is not absolute holiness…But it is the necessary prerequisite to holiness.[24]
The "Ins" and "Outs" of Fellowship
As shown, the view that sin can "break" or cause one to "lose" temporal fellowship is not supported scripturally. How does an act of sin affect our walk?
This author agrees that fellowship is relational, not an absolute state dependent on sin. Fellowship brings joy as we partake and grow in our experience of His "indestructible life." Sin impairs fellowship such that it is not healthy, honest or whole. Sin grieves the Father and the Spirit. A believer that is sensitive to the leading of the Spirit is also likely to experience that same grief. Sin impairs the ministry of the Holy Spirit in teaching, guiding, and manifesting the life of Christ in our hearts and lives. We would expect a Christian to experience this outcome as loss.
Amos 3:3 in the NKJV states, "Can two walk together, unless they are agreed?" If the proper view of fellowship is relational (a walk together of honesty and agreement) then it may be that the experiential aspect of fellowship can be lost due to rebellion, not just a single act of sin. Wall states this well:
For John, the issue is one of an honest walk versus a dishonest, rebellious non-acceptance of the…sin in our lives. Temporal fellowship is broken, not by an act of sin, but by a rebellious rationalization of the sin which the Holy Spirit is pointing out to the believer through the Word of God. This means that fellowship is more than the absence of unconfessed sins. It is a positive, personal, responsive relationship with God, openly lived in the light of His revelation-the Scriptures.[25]
If the child of God does not take advantage of this adjustment for sin, the Father's will, like in a human family, is expressed in loving discipline. The purpose of discipline is to return the child back to the place of blessing and obedience (Heb 12:4-13). The hardening of one's heart against the will of the Father may lead to early physical death (1 Cor 11:30). Even death may be seen as a mercy to a child of God who refuses to judge ongoing sin in their lives.
As we shall see, God has provided a means for cleansing so that we can walk in that light. As men soften their hearts and obey, they recognize God's attributes (light, love, and life) and their own disobedience in sin to His standard. It is not that sin, an act of darkness, causes us to be removed from the light. As we continue to walk in the light, the Spirit will convict us, prompting us to confess our known sin. The Father then cleanses us from all sin. John's use of light and darkness in his gospel does not lead one to this "in/out" understanding of fellowship. For John darkness is the realm of unbelief.
A healthy spiritual relationship is one in which believers respond to the light and love of God. This way His will and purpose in their lives is fulfilled. It requires honesty regarding confession of sin and desire to forsake it.
Walking in Light = Walking in Truth and Love
Fellowship is defined by John as a relationship entered into by truth and governed by honesty as God illuminates our way. What we believe affects what we do. His way is to walk in His light, truth, and love. According to the ISBE, "When used figuratively, walk (Gk. peripatéō) means one's conduct or walk of life, i.e., the manner in which one conducts oneself."[26]
Our walk is to be in the light, according to His truth and in love towards one another.
I was very glad to find some of your children walking in truth, just as we have received commandment to do from the Father. Now I ask you, lady, not as though I were writing to you a new commandment, but the one which we have had from the beginning, that we love one another. And this is love, that we walk according to His commandments. This is the commandment, just as you have heard from the beginning, that you should walk in it.                         2 John 1:4-6

I have no greater joy than this, to hear of my children walking in the truth.   3 John 1:4

Therefore be imitators of God, as beloved children; and walk in love, just as Christ also loved you and gave Himself up for us, an offering and a sacrifice to God as a fragrant aroma. Eph 5:2
V.8 Self-Deception Regarding Fellowship – If We Say…No Guilt for Sin
If we say that we have no sin, we are deceiving ourselves and the truth is not in us. 1 John 1:8
No Guilt for Sin – A False Argument
"We have no sin" is best interpreted, as "we have no guilt for sin." John's opponents seem to define sin as ignorance. According to Kubo (see below), they believed they possessed the wisdom of gnosis such that the guilt of sin (verse 8) or even sinful acts (verse 10) did not concern them.
The phrase translated we have no sin as used in Gospel of John (John 9:41, 15:22, 15:24, 19:11) refers to situations where a wrong action has been committed or a wrong attitude already existed, resulting in a state of sin (i.e., guilt).[27]

…"If we say that we have no (guilt for) sin,we deceive ourselves and the truth is not in us…" His purpose in 1 John 1:8… is to point out the falsity of such statements made by those who were walking in darkness, who were living in sin, but who could make these claims because their conception of sin was altogether different from that of the Christian.

They could make the claim because their definition of sin allowed them to do so…(A)ccording to them, sin is ignorance… (T)he possession of gnosis (knowledge) by means of a mystical communion with God brought them to a state of perfection. Therefore, they could make such claims; and yet from the Christian's standpoint these were empty claims because according to his conception of sin these persons were far from sinless. [28]

Who can say, "I have cleansed my heart,

I am pure from my sin"? Prov 20:9
No Truth in Us = No New Birth
The new birth into a new family as a new creation of God occurs by faith in the Word of His truth through the Spirit. If the gospel, the word of truth (1 John 2:24), is not in us then neither is the Spirit of truth (1 John 2:27; John 14:17; 15:26; 16:13; Eph 1:13). The Spirit is the truth (1 John 5:6) and, for believers, the truth is in us and will be with us forever (2 John 1:2).
 Every good thing given and every perfect gift is from above, coming down from the Father of lights, with whom there is no variation or shifting shadow. In the exercise of His will He brought us forth by the word of truth, so that we would be a kind of first fruits among His creatures. James 1:17-18

"…for you have been born again not of seed which is perishable but imperishable, that is, through the living and enduring word of God… But the word of the Lord endures forever." And this is the word which was preached to you.1 Pet 1:23, 25

For I am not ashamed of the gospel, for it is the power of God for salvation to everyone who believes, to the Jew first and also to the Greek. Rom 1:16
V.9 Honesty in Fellowship in the Light – Honesty Requires Confession
If we confess our sins, He is faithful and righteous to forgive us our sins and to cleanse us from all unrighteousness. 1 John 1:9

Thus we see that fellowship with God does not require lives of sinlessness, but rather requires that all our sins should be brought out into His presence, confessed, and forsaken. It means that we must be absolutely honest about our condition, and that there should be no hypocrisy or hiding of what we really are.[29]
The new birth into God's family is eternal, and a work of God that can never be undone. Believers will never lose their family relationship. Disobedience to the Father's will through sin does not expel one from the family, but it does impair or hinder that child's enjoyment of a full fellowship. Confession is God's solution for the believer's sin and the impairment created in fellowship and ministry between believers and God.
What is Confession?
Sin grieves God. In confession, a believer comes to agreement with God concerning one's sin and acknowledges guilt. Sin is defined as lawlessness (Where the law commands one to Love God and the brethren as Christ loves the church.), unbelief, or coming short of the glory of God. Sin may be committed acts, thoughts, motives, or sins of omission. The standard is God and His word. "Christians are encouraged to confess their sins and not deny them because God is true to His word and will forgive."
Agreeing with God about sin includes not only acknowledging that He says it is sin, but also having His viewpoint on sin which would…include forsaking it. Not to include the attitude of expecting to turn from that sin would be only partial agreement…[30]
Confessing your sins is no substitute for forsaking your sins.
He who conceals his transgressions will not prosper,

But he who confesses and forsakes them will find compassion. Prov 28:13
Confession Results in Forgiveness and Cleansing
Forgiveness
 All forgiveness of sin is based upon the work of Christ upon the cross, where in substitution for us, He paid the price for all sin; past, present, and future. Belief in His Person and work brings eternal life. Here, God forgives sins as Judge. Once a believer enters into the family of God sins hinder fellowship and grieve one's experiential relationship with God and others. Confession brings family forgiveness from God as our Father. Propitiation in 1 John 2:2 means that the anger of the Father has been averted for our disobedience and the health of the fellowship is restored.
The basis of family forgiveness is our judicial forgiveness that brought us into that relationship.
In John 13:1-11 Christ told the apostles that they were already clean by the word I have spoken to you. The Greek word used for clean indicates the taking of a bath. Yet, they were still in need of forgiveness and cleansing from walking around in the world. This cleansing was signified by His washing of the disciple's feet. It also points to the cleansing of believers through confession (1 John 1:9) without which "you would have no part in Me." Family forgiveness and cleansing is needed so that His life in ours is not hindered and fruit, more fruit, and much fruit results.
He told the disciples they should do this to one another. Believers should humbly serve others in love and forgiveness (John 13:14-18).
Cleansing
Cleansing is the washing from defilement of sin. It cleans us of the pollution of sin, whereas forgiveness is God's solution for the guilt of sin. Equipping and edification a believer should serve to build up the church towards the goal of a mature man in Christ and help to heal one another (John 13:14-18) from sin, self, and the world. Sound doctrine leads to a healthy spirituality and relationships with God and others. Sound doctrine includes teaching regarding God's prescription and discipline for sin as family members and in corporate bodies.
V.10 The Impossibility of Fellowship – If We Say…We Have Not Sinned
If we say that we have not sinned, we make Him a liar and His word is not in us. 1 John 1:10
No Acts of Sin
In verse 8, the opponents declared that even though they walked in darkness (unbelief and sin) they had no guilt for sin. Since they had no guilt, they didn't need forgiveness or cleansing through confession. They are not guilty of sin (verse 8) because they have not sinned (verse 10).
From the following Scriptures, all written by John, the terms used (make God a liar, the truth is not in us) clearly indicate that unbelievers are being described.
All Believers Determine that God is True
The one who receives the apostolic testimony from God determines that God is true, righteous, and holy.
He who has received His testimony has set his seal to this, that God is true. John 3:33
Unbelievers Make God Out to be a Liar
The one who attempts to make God a liar is the one who does not believe the testimony about the Son that brings fellowship with eternal life. This is true for all unbelievers.
The one who believes in the Son of God has the testimony in himself; the one who does not believe God has made Him a liar, because he has not believed in the testimony that God has given concerning His Son. And the testimony is this, that God has given us eternal life, and this life is in His Son. He who has the Son has the life; he who does not have the Son of God does not have the life. 1 John 5:10-12
The Truth is in All Believers
The truth, whether it is Jesus Christ, the word or the Spirit, permanently indwells believers. One who does not have His truth or word in them is an unbeliever (1 John 1:8, 10). The truth is not in them because they do not believe the testimony of the Father regarding the Son.
The truth, whether it is Jesus Christ, the word or the Spirit, permanently indwells believers. One who does not have His truth or word in them is an unbeliever (1 John 1:8, 10). The truth is not in them because they do not believe the testimony of the Father regarding the Son.

I will ask the Father, and He will give you another Helper, that He may be with you forever; that is the Spirit of truth, whom the world cannot receive, because it does not see Him or know Him, but you know Him because He abides with you and will be in you.   John 14:16-17

for the sake of the truth which abides in us and will be with us forever… 2 John 1:2

And the Father who sent Me, He has testified of Me. You have neither heard His voice at any time nor seen His form. You do not have His word abiding in you, for you do not believe Him whom He sent. John 5:37-38

You are of your father the devil, and you want to do the desires of your father. He was a murderer from the beginning, and does not stand in the truth because there is no truth in him. Whenever he speaks a lie, he speaks from his own nature, for he is a liar and the father of lies.   John 8:44
1 John 2:1 Advocate for Sins
My little children, I am writing these things to you so that you may not sin. And if anyone sins, we have an Advocate with the Father, Jesus Christ the righteous… 1 John 2:1
John addresses his readers as faithful Christians. His desire for them, similar to Christ's for us (John 5:14), is "do not sin." God cannot condone any sin. It is not sin as little as you can. Sin impairs fellowship and impacts negatively the will and blessings of the Father for believers.
Yet, if we do sin we have Jesus Christ, the righteous One, as an Advocate with the Father. An advocate is One who speaks in the defense of another. The Lord seeks to bring us to the point where we do confess our sins, so that the impaired fellowship can be brought back to health. Christ in heaven intercedes with the Father for Christians who sin upon earth (Rom 8:3; Heb 7:25).
Sin is not considered to be inevitable. "These things I write that you will not sin." John's teaching is to be preventive of sin. In every instance of sin there is the possibility and enablement of God that we will not fail (1 Cor 10:13). With any temptation a way of escape is provided. Yet, God in His mercy for us recognizes our shortcomings providing all that is needed for forgiveness for when we do sin as well as enablement not to sin.
The efficacy of His ministry (as our Advocate) is guaranteed by the righteousness of His Person. His righteousness is set in contrast to our sin (1 John 1:9). [31]
1 John 2:2 Propitiation for Sins
…and He Himself is the propitiation for our sins; and not for ours only, but also for those of the whole world. 1 John 2:2
Jesus, by His death on the cross, made possible the forgiveness of sins for the whole world (unlimited atonement). Christ died for everyone (2 Cor 5:14-15, 19: Heb 2:9). The humanity of the world is the object of God's love (John 3:16-17; 12:46-47), for Jesus Christ is the Savior of the world (John4:42; 1 John 4:14). The offer of forgiveness to the world only becomes effective for those who receive the gift of salvation in faith.
The basis for Jesus' advocacy and intercession for us regarding our sin is His propitiation (setting aside) of the Father's wrath for sin through the cross. He paid the price and penalty for our sin. Christ and Christ alone is the propitiation. The Father accepts no other way or path to the satisfaction of His wrath regarding sin.
…God is love. By this the love of God was manifested in us, that God has sent His only begotten Son into the world so that we might live through Him. In this is love, not that we loved God, but that He loved us and sent His Son to be the propitiation for our sins. Beloved, if God so loved us, we also ought to love one another.  1 John 4:8b-11
"The Father has shown His love to man by sending His Son as the propitiation for our sins. He loved us, not because we loved him, but in spite of our own bitter antagonism."
Note the resounding paradox of this verse, that God is at once loving and wrathful and His love provides the kind of propitiation that averts His wrath from us. So far from finding any contrast between love and propitiation, the apostle can convey no idea of love to anyone except by pointing to the propitiation.[32]
Vine states, "Neither fellowship to God nor knowledge of Him can exist apart from obedience to His will."  In 1 John 2:3-5 we will examine the connection between knowing God and exercising love. The Father's desire for man is that His love for us will be perfected and brought to its purpose and final goal as believers love one another.
Next: Fellowship in Love and Obedience: 1 John 2:3-11
[1] Keathley, J. Hampton, III, (2004), Christian Fellowship, www.bible.org.
[2] Ibid.
[3] Ibid.
[4] Gaebelein, Frank, General Editor, (1982), Expositor's Bible Commentary, Grand Rapids, MI: Zondervan Publishers, Rom 8:4
[5] Harris, W. Hall, III, (2009), 1, 2, 3, John Comfort and Counsel for a Church in Crisis, Dallas, TX: Biblical Studies Press, p. 21.
[6] Ibid.
[7] Vine, W. E., (1996), Collected Writings of W.E. Vine, Nashville, TN: Thomas Nelson.
[8] Vine, W. E., Unger, M. F., & White, W., Jr., (1996), Vine's Complete Expository Dictionary of Old and New Testament Words, Nashville, TN: Thomas Nelson, Volume 2, pp. 144-145.
[9] Harris W., Hall, III, (2009), 1,2,3 John, Comfort and Counsel for a Church in Crisis, Dallas, TX: Biblical Studies Press.
[10] Vine, W. E., (1996), Collected Writings of W.E. Vine, Nashville, TN: Thomas Nelson.
[11] Unger, Merrill, (2014), Unger's Commentary on the Gospels, Chattanooga, TN: AMG Publishers, John 8:12
[12] Walvoord, John, Zuck, Roy, (1985), Bible Knowledge Commentary, Wheaton, IL: Victor Books, John 8:12
[13] Constable, Thomas, (2014), Expository Notes of Dr Thomas Constable, Dallas, TX: Thomas L Constable, Publisher, John 8:12.
[14] Bayliss, Charles P., (1992), The Meaning of Walking in the Darkness, Bibliotheca Sacra 149:594 (April 1992), pp. 214-220
[15] Ibid.
[16] MacDonald, William, (1995), Believer's Bible Commentary, Nashville, TN: Thomas Nelson Publishers, 1 John.
[17] Bayliss, Charles P., (1992), The Meaning of Walking in the Darkness, Bibliotheca Sacra 149:594 (April 1992), pp. 214-220
[18] Harris, W. Hall, III, (2009), 1, 2, 3, John Comfort and Counsel for a Church in Crisis, Dallas, TX: Biblical Studies Press
[19] Rosscup, James, (1973), Abiding in Christ, Eugene, OR: Wipf and Stock Publishers, pp. 204-206.
[20] Deffinbaughm, Bob, (2004), Romans: The Righteousness of God, Romans 8:1-17, www.bible.org.
[21] Ryrie, Charles C., (1994), Balancing the Christian Life, Chicago, IL: Moody Publishers.
[22] Vine, W. E., (1996), Collected Writings of W.E. Vine, Nashville, TN: Thomas Nelson, 1 John.
[23] Ibid.
[24] Wallace, Daniel, B., (2004), Honest to God! Or, God is not a Pit Stop (1 John 1:5-10), www.bible.org.
[25] Wall, Joe Layton, (1978), Bob Thieme's Teachings on Christian Living, Houston, TX: Church Multiplication, Inc., p. 87.
[26] Bromiley, Geofrey, General Editor, (1989), International Standard Bible Encyclopedia (ISBE), 2nd Edition, Grand Rapids, MI: Eerdman's Publishing.
[27] Harris, W. Hall, III, (2009), 1, 2, 3, John Comfort and Counsel for a Church in Crisis, Dallas, TX: Biblical Studies Press.
[28] Kubo, Sakae, (1969), 1 John 3:9: Absolute or Habitual?, Berrien Springs, MI: Andrews University Seminary Studies 7 (1969), pp. 47-56.
[29] MacDonald, William, (1995), Believer's Bible Commentary, Nashville, TN: Thomas Nelson Publishers, 1 John.
[30] Ryrie, Charles C., (1994), Balancing the Christian Life, Chicago, IL: Moody Publishers.
[31] Vine, W. E., (1996), Collected Writings of W.E. Vine, Nashville, TN: Thomas Nelson, 1 John 2:1.
[32] MacDonald, William, (1995), Believer's Bible Commentary, Nashville, TN: Thomas Nelson Publishers, 1 John 4:10, (from Denney, James, R., The Death of Christ, 2d. ed., p. 276.)